Other news
Virtual Minisymposium "Cancer therapeutic resistance: at the crossroad between immunity and DNA damage response"
Molecular Bases of Human Diseases Department Virtual Minisymposium "Cancer therapeutic resistance: at the crossroad between immunity and DNA damage response"
Montpellier, November 30th 2020 Institute of Human Genetics
Contact Organization : Domenico Maiorano This email address is being protected from spambots. You need JavaScript enabled to view it.
Regulation of single-cell genome organization into TADs and chromatin nanodomains
Szabo, Q., Donjon, A., Jerkovic, I., Papadopoulos, G.L., Cheutin, T., Bonev, B., Nora, E., Bruneau, B.G., Bantignies, F., and Cavalli, G.
Journal: Nature Genetics 52, 1151–1157. (2020)
Topoisomerase 1 prevents replication stress at R-loop-enriched transcription termination sites
Promonet A, Padioleau I, Liu Y, Sanz L, Biernacka A, Schmitz AL, Skrzypczak M, Sarrazin A, Mettling C, Rowicka M, Ginalski K, Chedin F, Chen CL, Lin YL, Pasero P.
Nature Communications 2020 Aug 7;11(1):3940. doi: 10.1038/s41467-020-17858-2.
Nature publication by the LifeTime Initiative: Improving Healthcare and Healthcare Systems in Europe Through "Interceptive" Cellular Medicine
The LifeTime initiative, in which the Institute of Human Genetics (IGH), the CNRS and the Institut Curie participate, brings together hundreds of researchers, clinicians, industry leaders and policy makers both in France and in Europe. Together, they publish their LifeTime Strategic Research Agenda as well as an article in Nature on September 7, 2020
Mec1 Is Activated at the Onset of Normal S Phase by Low-dNTP Pools Impeding DNA Replication
Romain Forey, Ana Poveda, Sushma Sharma, Antoine Barthe, Ismael Padioleau, Claire Renard, Robin Lambert, Magdalena Skrzypczak, Krzysztof Ginalski, Armelle Lengronne, Andrei Chabes, Benjamin Pardo, Philippe Pasero
Homologous recombination and Mus81 promote replication completion in response to replication fork blockage
Benjamin Pardo, María Moriel‐Carretero, Thibaud Vicat, Andrés Aguilera and Philippe Pasero
The Mi-2 nucleosome remodeler and the Rpd3 histone deacetylase are involved in piRNA-guided heterochromatin formation
Bruno Mugat, Simon Nicot, Carolina Varela-Chavez, Christophe Jourdan, Kaoru Sato, Eugenia Basyuk, François Juge, Mikiko C. Siomi, Alain Pélisson & Séverine Chambeyron
The Institute of Human Genetics is working at the forefront of the scientific response to COVID-19
During the developing COVID-19 pandemic the Institute of Human Genetics and its researchers are playing their part in tackling the virus.
We have set 2 objectives.
The first concerns the optimization of the RT-PCR test by eliminating the RNA extraction step from patient samples and the miniaturization of the test to allow the development of a new large-scale test based on massive sequencing and intended for screening the population.
The second, aimed at screening for antiviral activity using a targeted FDA-approved drugs. Thus, we isolated SARS-Cov-2 from patient nasopharyngeal sample, established an infectivity assay, TCID50 assay and viral RNA quantification
assay using RT-qPCR.

Thanks to Montpellier Biocampus MGX, , researchers from the LPHI and CEMIPAI facility we were able to successfully achieve our objectives.
Indeed, we have successfully developed a SARS-Cov-2 NGS based detection using nasopharyngeal swab samples (Figure 1). The procedure is currently under validation by the National Reference Center at the Pasteur institute in Parisinstitute in Paris. Our objective is transferring this technology to medical biology laboratories in order to perform large scale COVID-19 testing.

Our objective is transferring this technology to medical biology laboratories in order to perform large scale COVID-19 testing. Our screening using targeted FDA-approved drugs allowed us to identify two compounds with a strong antiviral activity in vitro (patent pending). We are currently exploring the molecular mechanism
involved (Figure 2). Three IGH researchers, Clement Mettling (1), Gael Petitjean (2) and Monsef Benkirane, have worked around the clock to achieve these objectives. We are delighted to Laurence Berry and Talip Aydogan from the LPHI and Franck Godiard from the UM who performed electron microscopy on SARS-cov-2 particles and infected cells (Figure 3), Delphine Muriaux and Sébastien Lyonnais from CEMIPAI for performing Atomic force microscopy (Figure 4), Laurent Journot and all the members of the Montpellier GenomiX facility and Vincent Foulongne and Michel Segondy from the Montpellier Hospital for providing valuable patient samples. We are grateful to Olivier Schawartz from the Institut Pasteur for sharing A549 expressing ACE2 cells and Delphine Muriaux for sharing VeroE6 cells.
Great thanks to the CNRS president, Antoine Petit, André Le Bivic INSB director and Philippe Augé (University of Montpellier director). Finally, we are grateful to Frédérique Vidal, minister of high education and research, for her visit to IGH (3-5) and for the constructive discussions and support.
Clement Mettling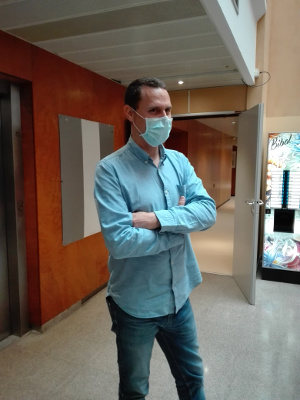 Gael Petitjean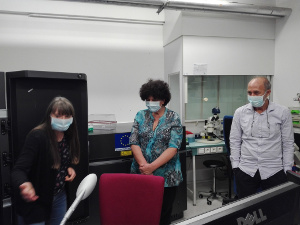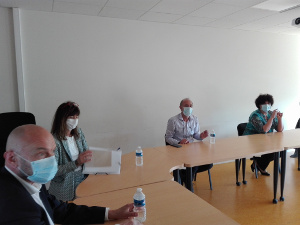 Visite à l'IGH de madame Frédérique Vidal,
ministre de l'enseignement supérieur et de la Recherche
Illustration Covid-19 réalisée par Fabrice Hyber
Bernard de Massy reçoit l'ERC Advanced Grant 2019 pour DSBSunrise
DSBSunrise: La coordination au niveau de l'ADN jusqu'à celui de l'organisation des chromosomes pour la mise en place de l'initiation de la recombinaison en méiose.
4D genome rewiring during oncogene-induced and replicative senescence
Molecular Cell, DOI: 10.1016/j.molcel.2020.03.007
Sati, S., Bonev, B., Szabo, Q., Jost, D., Bensadoun, P., Serra, F., Loubiere, V., Papadopoulos, G., Rivera-Mulia, J. C., Fritsch, L., Bouret, P., Castillo, D., Gelpi, J. Ll., Orozco, M., Vaillant, C., Pellestor, F., Bantignies, F., Marti-Renom, M. A., Gilbert, D. M., Lemaitre, J. M., Cavalli, G.
Exploring histone loading on HIV DNA reveals a dynamic nucleosome positioning between unintegrated and integrated viral genome.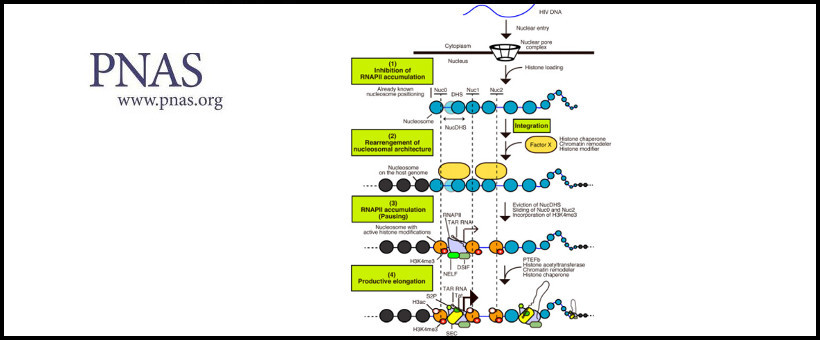 Machida S, Depierre D, Chen HC, Thenin-Houssier S, Petitjean G, Doyen CM, Takaku M, Cuvier O, Benkirane M.
Senior Group Leader Position Institut de Génétique Humaine CNRS-université de Montpellier, Montpellier, France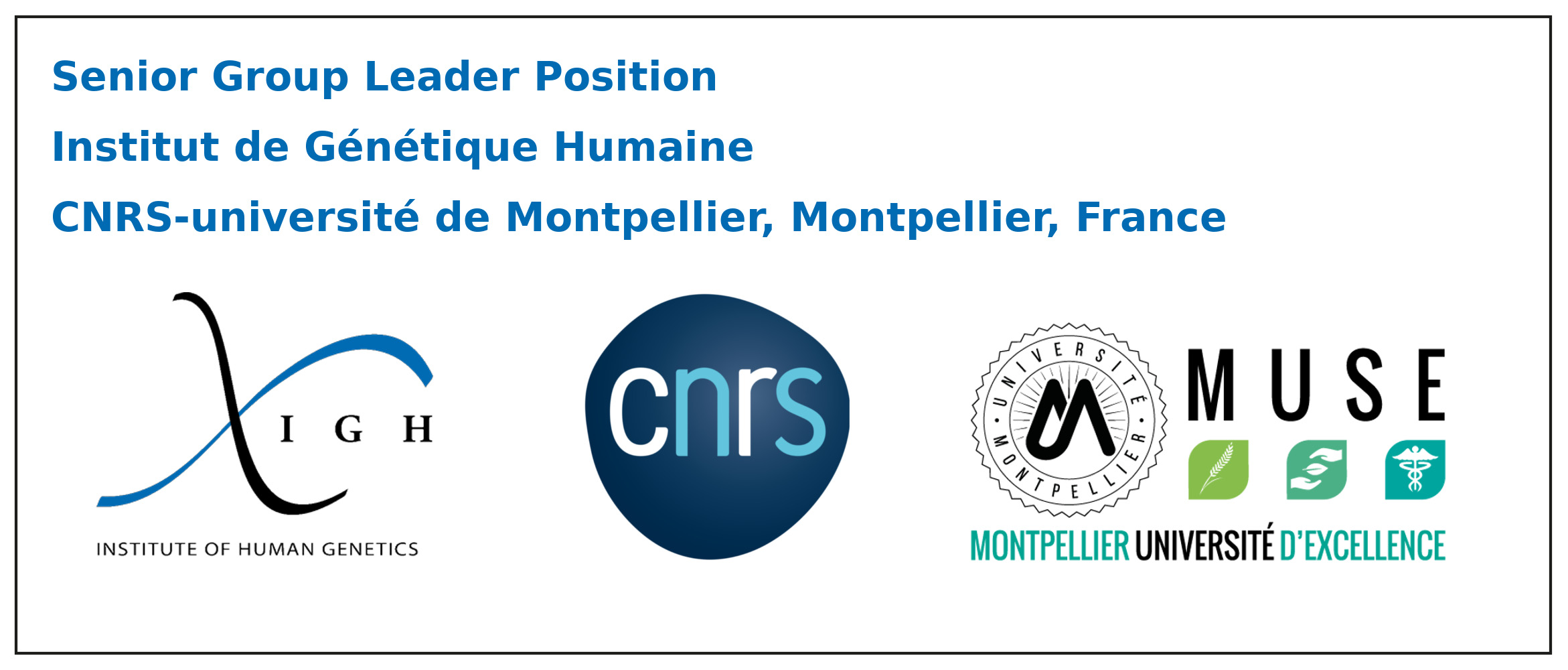 The Institute of Human Genetics (IGH) of Montpellier opens a call for applications to host an established senior research group to foster interdisciplinary research and innovation in the fields of Nuclear dynamics, Computational Biology, Developmental biology, Cancer and Infectious Diseases.
The IGH is a world-class biology and biomedical science Institute. It provides an exciting scientific environment and benefits from core funding of the CNRS and the University of Montpellier. The IGH is located in the biomedical campus Arnaud de Villeneuve, which is connected to the University Hospitals and the Faculty of Medicine. In addition to IGH, the campus includes the Institute of Functional Genomics, the Center for Structural Biochemistry and the Genopolys Science Outreach center, boasting a research area of over 15,000 m2. This excellent scientific environment is supported by BioCampus Montpellier, a service unit providing a wide range of state-of-the-art facilities, including Genomics, Proteomics, medium and high-throughput Screening, Imaging, Animal Facilities and high-end instrumentation for Structural Biology and Biophysics.
The group leader should have a permanent French academic position. Selection of candidates will be based on international scientific excellence. Particular attention will be given to innovative, high-risk projects. Selected group leaders will receive lab space and support from the IGH, in addition to strong assistance from the grant office for the preparation of applications for grants from French and European agencies.
Application deadline: Jun 30, 2019.
Notification to shortlisted applicants: July 15
Interviews of shortlisted candidates by September 30
Starting date for the position: January 2021
For more information, visit the web site: http://www.igh.cnrs.fr
Candidates should send a CV, a one-page description of their achievements, a list of selected publications, a one-page summary as well as a five-page description of their research project.
Applications should be sent to: This email address is being protected from spambots. You need JavaScript enabled to view it.
On June 7th and 8th 2018, the IGH in partnership with the brand new Faculty of Medicine hosts a prestigious panel of international scientists for a series of conferences.
Résultats du premier appel à projet recherche de l'I-Site MUSE
Ce mercredi 20 Décembre 2017, le conseil de MUSE s'est réuni afin de définir et annoncer la liste finale des projets lauréats à l'appel à projets Soutien à la Recherche. 58 projets ont été retenus sur les 260 dossiers déposés, dont celui porté par William Richie de l'équipe Intelligence artificielle et régulation génique de L'IGH.
Anémie de Fanconi: une connexion inattendue avec la machinerie d'épissage des ARNs
María Moriel-Carretero, Sara Ovejero et Angelos Constantinou révèlent une connexion inattendue entre des protéines de l'AF et la machinerie de l'épissage des ARNs. Cette étude publiée le 13 octobre 2017 dans la revue Journal of Cell Biology, apporte un nouvel éclairage sur les syndromes myélodysplasiques.
Lien JCB
The 3D organization of the genome has emerged recently as intimately linked to its biological function, yet its relation to cell fate during development not understood. Bonev et al. (Cavalli's team) used ultrahigh resolution Hi-C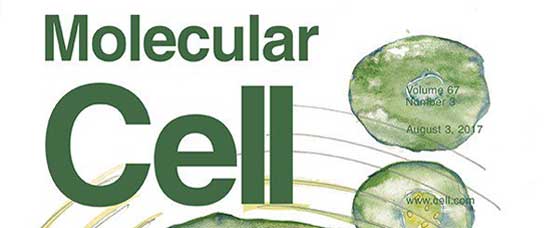 On this cover (Mol. Cell vol 67, Issue 3, Aug.07, 2017): An artistic view of a novel role of the paraspeckle, a multi-subunit complex containing the protein HEXIM1 and NEAT1 long non-coding RNA.
Journée Portes Ouvertes à l'IGH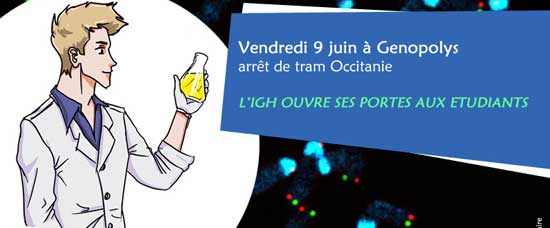 L'Institut de Génétique Humaine a été heureuse d'ouvrir ses portes afin d'informer sur les métiers de la recherche et faire découvrir les différentes thématiques qui y sont développées.
Millau : patron incontesté des 100 km, Hervé Seitz a remis ça !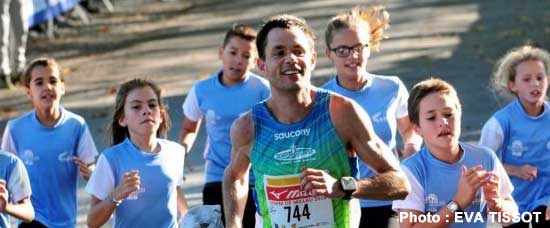 Hervé Seitz, responsable de l'équipe "Impact systémique des petits ARN régulateurs" a remporté la course ce samedi, pour la deuxième année consécutive.
(Source Midi Libre)