June 7th and 8th 2018 - Faculty of Medicine Campus Arnaud de Villeneuve in Montpellier.
The Institute of Human Genetics celebrates its 20th anniversary. Twenty years of a successful human and scientific adventure. 1998 marked the end of the construction of the Institute and the establishment of all groups. Thereupon, IGH took off and ten years later, the Institute had become an organized workplace with a friendly, supportive and inspiring scientific environment. Today, after 20 years of existence, IGH has attained full maturity and it shows remarkable achievements. Our engagement for the coming years is to consolidate, maintain and improve our strengths and to create bridges between IGH, clinicians and industry enabling the practical application of our discoveries.
The success of the IGH is the outcome of a collective effort. I would like to warmly thank the 5 successive directors, but also all groups, researchers, scientific technicians and engineers, PhD students and postdocs as well as the technological facilities and administrative staff, who made this possible.
Lastly, we are extremely glad to welcome on this occasion 14 outstanding scientists for a series of communications. We thank them most heartily.
Happy IGH 20th anniversary to all of you.
Monsef Benkirane,
Directeur
Symposium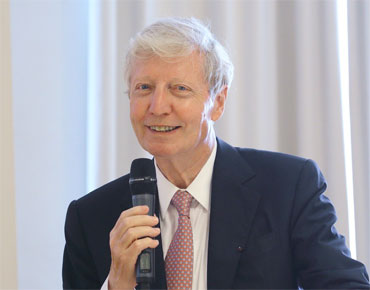 Keynote Speaker
Jules Hoffmann
, IBMC Strasbourg, FR
Jules Hoffmann is the Chair for Developmental Biology at the University of Strasbourg Institute for Advanced Study and Emeritus Research Director at CNRS. His work has provided new insights into the defense mechanisms that organisms, from the most primitive up to humans, employ against infectious agents. By demonstrating the marked conservation of innate defense mechanisms between insects and humans, the work initiated by Hoffmann and his collaborators has led to a re-evaluation of the role of innate immunity in mammals. More generally, the Drosophila model has enabled biologists throughout the world to make considerable progress, not only in developmental genetics and innate immunity but also in the study of certain human pathologies and in the understanding of memory, behavior, sleep and nutrition phenomena. With Bruce A. Beutler and Ralph M. Steinman, Hoffmann was awarded the Nobel Prize for Medicine in 2011.
Cell & developmental biology
Daniel Durocher, University of Toronto, CA
Nick Hastie, MRC, Edinburg, UK
Hervé Chneiweiss, IBPS, Paris, FR
Martine Simonelig, IGH, Montpellier, FR
Chromatin & epigenetics
Kristian Helin, BRIC, Copenhagen, DK
Rob Martienssen, CSHL, New York, US
Bernard de Massy, IGH, Montpellier, FR
Marcel Méchali, IGH, Montpellier, FR
Nuclear organization
Wendy Bickmore, MRC, Edinburg, UK
Jérôme Déjardin, IGH, Montpellier, FR
Amos Tanay, Weizmann Institute, Rehovot, IL
Giacomo Cavalli, IGH, Montpellier, FR
Geneviève Almouzni, Institut Curie, Paris, FR
---
---
Partners and supports to health research
European Research Council (ERC)
The ERC's mission is to encourage the highest quality research in Europe through competitive funding and to support investigator-driven frontier research across all fields, on the basis of scientific excellence. Being 'investigator-driven', or 'bottom-up', in nature, the ERC approach allows researchers to identify new opportunities and directions in any field of research, rather than being led by priorities set by politicians. ERC grants are awarded through open competition to projects headed by starting and established researchers, irrespective of their origins, who are working or moving to work in Europe. The sole criterion for selection is scientific excellence. The aim here is to recognize the best ideas, and confer status and visibility on the best brains in Europe, while also attracting talent from abroad.
Prof. Jean-Pierre Bourguignon is the President of the European Research Council since 2014. A mathematician by training, he spent his whole career as a fellow of the CNRS and, from 1986 to 2012, as Professor at the Ecole Polytechnique. In his talk, Prof. Jean-Pierre Bourguignon will outline the possibilities granted by the ERC in the current funding programs and shape the ERC's future under the next European Framework Program.
Bettencourt Schueller Foundation
"Taking talent to the top" is the approach chosen by the Bettencourt Schueller Foundation nearly 30 years ago to contribute to a better French society and boost France's influence on the international stage. Created by a family, the Foundation trusts in people and their capacities, emphasizing initiative, creativity, quality and openness. Its convictions define its spirit and ways of working – in the common interest, not for profit, and with social responsibility in mind.
The Bettencourt Schueller Foundation focuses its actions on three main fields of engagement: life sciences, the arts, and social progress. As regards, more specifically, the life sciences, the Foundation supports initiatives for scientific research, training and the promotion of scientific culture.
Armand de Boissière is the Secretary General of the Foundation. For the IGH 20th anniversary, he will address the different prizes, grants and structural actions the Bettencourt Schueller Foundation offers to the health research community.
Fondation Allianz – Institut de France
The 'Fondation Allianz – Institut de France' encourages all actions related to health prevention and cure. In partnership with the French Academy of Sciences, the 'Fondation Allianz – Institut de France' notably awards every year since 1984 a Research Prize to a medical or biomedical research investigator whose work led to or may lead in a short term to clinical applications capable of increasing life expectancy by prevention or curative actions.
Sophie Pelet-Prigent, in charge of the 'Fondation Allianz – Institut de France' for the Corporate Social Responsibility Direction of Allianz France, will present us Allianz actions in support to health research.
MSDAvenir
MSDAVENIR is a support fund for French life sciences research. Created in 2015, it has been allocated 75 million euros over three years. It aims at improving patients' life through the reaching of research and innovation public-private partnerships. To date, over 40 research programs have been funded throughout the country in seven major therapeutics areas: diabetes, cardiometabolism, immunology and rheumatology, genetics, infectiology, neurology and oncology. MSDAVENIR selects projects overall for their original and innovative approach and their expected impact on health research.
Dominique Blazy is the President of MSDAVENIR Scientific Council and Medical Director of MSD France. In his talk, he will outline MSD engagement towards academic fundamental research and provide an assessment of the MSDAVENIR initiative after three years of existence.
---
Art at IGH: The 'Plumes et Génome' project
Plumes et Génome, when an artistic fantasy meets a scientific world…

Plumes et Génome is a crosstalk between Sylvaine Jenny, artist established in Montpellier, and the research groups of the Institute of Human Genetics (IGH). Born for the celebration of the 20th anniversary of the Institute, this project, that mixes science and art, allows IGH to open its research to society and to present its works with an original, poetic and accessible view.
The aim of the project is two-fold : the Plumes et Génome exhibition to be unveiled on this June 7th 2018 during the gala evening, and an hardback edition to be soon published. The exhibition is composed of 32 paintings in watercolour and pen, illustrating the IGH scientific research, and the supporting administrative and technical activities. The publication will embed these illustrations as well as about 15 additional ones, which Sylvaine Jenny will realise as a live demonstration during the series of conferences given for the IGH 20th anniversary.
The artist
Sylvaine Jenny is a painter, graphist, illustrator and plastic artist. She graduated at the 'Ecole supérieure des arts appliqués Dupéré' and started practicing as Chief decorator for animated movies and video games, before producing sets and various graphical tools for theater and finally opening her workshop in Montpellier. Sylvaine draws inspiration from themes as diverse as Greek mythology, childhood, nature or futuristic engineering and she captures daily-life scenes with a poetic lightness recalling Sempé's work. In recent years, she has developed the 'Plumes Nomades' project, proposing impromptu drawings in public during a congress, a festival, a demonstration. She dabbles thus different professional sectors, from private insurance to scientific research or criminalistics. Plumes et Génome is a variation on the 'Plumes Nomades'.
---
Our partners and sponsors