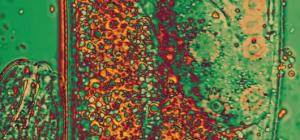 piRNAs and PIWI proteins
PIWI proteins and PIWI-interacting RNAs (piRNAs) are essential for silencing mobile genetic elements like transposons in the animal germline and are essential for fertility in animals and humans. This meeting aims to bring the community to discuss the recent advances in the field and will cover a broad range of techniques and animal models. Speakers at this meeting will illustrate the unprecedented molecular insights into piRNA biogenesis machinery provided by structural biology investigations and...
Contact IGH Severine CHAMBEYRON
Non-coding RNA, epigenetics and genome stability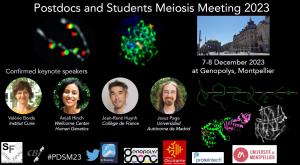 Postdoc and Student Meiosis workshop
The 4th edition of the Postdoc and Students Meiosis Workshop will take place the 7th and 8th of December 2023 in Montpellier. For this edition, we will have four invited speakers: Valérie Borde, Anjali Hinch, Jean-René Huynh, Jesus Page and selected talks based on abstract submission, with a priority for students and Postdocs.  
Contact | Thomas Robert
Amphitheater at Genopolys

1-day Mini-symposium "Unraveling Transcriptional Dynamics"
LabMUSE EpiGenMed PhD Networks: mini-symposium on "Unraveling Transcription Dynamics" From Microscopy to Modelling.
Registration for the symposium is free; however, it is mandatory for organizing lunch and access QR codes.
Contact IGH Rachel TOPNO
Cell Biology of RNA
Institut Jacques Monod, Paris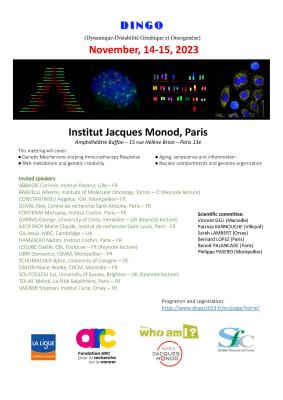 Dynamique-Instabilité Génétique et Oncogenèse meeting
The next DINGO (Dynamique-Instabilité Génétique et Oncogenèse) meeting on the 14-15 November 2023 at the Institut Jacques Monod, Paris.
The meeting will cover:
Genetic Mechanisms shaping Immunotherapy Response
Aging, senescence and inflammation
RNA metabolism and genetic instability
Nuclear compartments and genome organization
Contact IGH Philippe PASERO
Amphitheater at Genopolys

WORKSHOP IN EPIGENETICS
This one-week workshop aims to introduce the various aspects of epigenetic research via a highly interactive approach that will engage the students in lively discussions with a set of invited speakers chosen among the world leaders in the field. Students will go deep in the research topics of the speakers by combining mentored analysis of their published work with first hand private discussions with the speakers after an open seminar. While one day will be devoted to presentation of careers in academia,...
Contact IGH Charlene BOUMENDIL
Le CORUM, Montpellier, Fr
Imaging life: the future
The "Imaging life: the future" international 2.5-day symposium which will be held in Montpellier, France October 17-19 to celebrate 20 years of imaging and cytometry at MRI aims to foster intense and friendly scientific discussions to try and foresee how future developments in light/electron microscopy and image analysis could further transform research in animal and plant biology across scales, from molecules to tissues. We are expecting to host 200 scientists from all over Europe.
Cell Imaging Facility

"InteRNAt" summer school on small regulatory RNAs (microRNA, siRNA, piRNA)
Small regulatory RNAs (miRNAs, siRNAs, and piRNAs) have attracted a lot of attention over the past two decades. The use of siRNAs for experimental gene repression by RNA interference, the apparent low specificity of miRNAs (each appears to repress hundreds of target genes, implying that miRNAs collectively participate in the control of all physiological processes in Animals), and the numerous regulatory roles proposed for piRNAs, probably explain the great interest in them by the scientific community. Inevitably,...
Contact IGH Herve SEITZ | | Isabelle Busseau
Systemic impact of small regulatory RNAs
You must log in to access IGH staff information
1st Young Scientist Cancer Congress (YS2C)
The CRCT postdocs association was created in 2022 by Benoît Aliaga, Chloé Bessière and Steffen Fuchs. It gathers the 31 postdocs who are currently present in our research center. We decided to organize the 1st Young Scientist Cancer Congress of the Cancéropôle Grand Sud Ouest (GSO) on the 5th October 2023 at the Oncopole, Toulouse. Aim: The main goals of this day are to promote the work of the GSO postdocs and young clinician scientists, to network, and to optimize their career paths. Public:...
Contact IGH Sara OVEJERO MERINO
International symposium on Human Genomics
The International symposium on Human Genomics will be the opportunity to promote research in genetics and genomics in France and to bring the community together. It will be opened to the national and international genetics and genomics community. Early-career researchers are encouraged to attend and submit either an oral or a poster presentation.